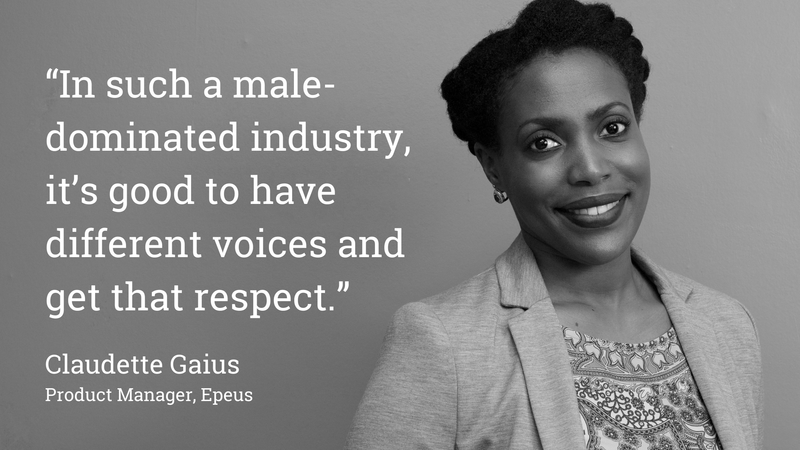 Thriving in a man's world
To celebrate International Women's Week, we spoke to our own Claudette Gaius, Product Manager of Project Horizons, to hear her reflections on the industry.
"I love upstream energy because it's a very small community and very connected. Wherever you go in the world, you'll find someone who knows someone you know too. But the industry is inherently unstable and high risk, so you never know what's coming next, which I like.
"I grew up with brothers in a very male environment. I was quite sporty, playing lots of basketball, more or less a tomboy. So in some ways I find it easier to work with guys, which is lucky, given the industry I've chosen! Perhaps it just suits my personality, even if today I also like my nice clothes and heels.
"I was born in East Africa but grew up in Belgium. After a BSc in Business Administration and an MBA, I moved to Edinburgh for an MSc in Business Information Technology. Then I came up to Aberdeen in 2014 for a job as an analyst.
"There's really only one industry in Aberdeen and when I started it was booming. Everything was rosy and I made many friends. But then the oil crash hit. Like many others, I was affected. Luckily I bounced back quickly.
"In 2018, I had two offers. One was a big company into everything oil & gas that also supplied the army—very stable but with an old school, 9-to-5 vibe. The other was Epeus, which spoke to me as a person. The company has an entrepreneurial spirit, where you do something and see the impact.
"Epeus has always hired women in influential roles"
"With my background in statistics, economics, and management, I felt I had something to contribute to a business that was smaller and more agile. I also liked how, over its 20 years, Epeus has always hired women in influential roles. In such a male-dominated industry, it's good to have different voices and get that respect.
"I've recently switched roles. As an analyst, and even in marketing, I'd been more behind the scenes. Now I'm product manager for Project Horizons, our proprietary self-assessment software for projects. It's really exciting to represent this innovative tool that helps project teams feel more certain about their outcomes.
"So now I'm putting myself out there to do the whole business development thing, speaking to people, getting feedback. It's challenging. Like having your first baby and you don't know exactly what to do. You listen to advice, make mistakes and learn as you go.
"You listen to advice, make mistakes and learn as you go"
"I've got some experience of both now, as my daughter is almost two. You can't predict exactly how things will go. But if you put in the hard work, something's going to come out of it. So it'll be a growth year for me and for the business too, I hope!
"That said, the whole uncertainty that we're now facing, first with the pandemic and now war in Europe, is daunting. My heart, especially, goes out to all the people affected by the war."
* * *
With her education, experience and attitude, there's little doubt Claudette is going to make a big impact.
And, of course, you can try Project Horizons yourself.