The right experts for your dispute
For failed energy projects, our method and experts provide a benchmark to move forward successfully.
We work across the whole vertical chain of the upstream energy industry—from oil and gas to renewables—wherever the project involves a large complex feat of engineering.
Your client may be a major field operator, a big contractor or an investor in a major upstream energy project. Whether plaintiff or defendant, they need experts they can rely on for the technical details. How should the project have been managed? What details might have been overlooked? And how do you find the experts who really know oil and gas project management?
Getting to the truth 
Our firm comprises professionals from industry operations, project management, and engineering backgrounds. Our experts bring years of valuable oil and gas project management knowledge and experience. We have deep expertise of drilling rig, vessel and facilities construction projects, as well as equipment manufacture and operations.
Whether you're looking for help with testimonies, depositions, or cross-examinations, or your case calls for expert reports, we can help. We've worked with a range of leading law firms and their clients in various judicial systems around the world. From the USA to Kazakhstan, Israel to Norway, we support dispute cases with highly specialised advisory support and expert provision.
It all adds up to the dispute resolution services you need.
Litigation, mediation and arbitration experience
Disagreements in large-scale energy projects can arise for all sorts of reasons. Cancelled contracts, loss of revenue, poor performance, compliance, contractual breaches and non-payment: we've applied our industry expertise and project risk management experience to assist in all manner of conflicts. 
Our own reputation is built on providing unbiased advice to a broad range of clients. Our insights are based both on experience and our own PRIMA methodology, which applies project fundamentals to specific industry domains. It's the benchmark against which we measure the project in question.
Why One90?

We're problem-solvers who make accurate deductions from the smallest of observations. Sherlock Holmes has always appealed to our sense of curiosity and forensic obsession with detail. A reminder of the high standard we hold ourselves to, Sherlock was reputed to have an IQ of 190. Hindsight isn't 20/20—it's One90.
Unlike big consultancy firms, Epeus is an active industry player. We've been involved in more than 200 industry projects spanning almost 20 years making our knowledge directly relevant. Our core business is still Project Risk Management, so unlike professional expert witnesses, we keep our knowledge base up to date.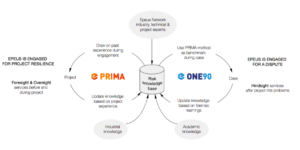 We only contribute where we know we can make a difference, so we're always careful to evaluate the projects we are asked to undertake before accepting the job. Sometimes, we have to decline opportunities when we are conflicted. 
Expertise Definition
Our clients know that, in legal disputes, the right preparation is everything. That's why they trust us to help them get ready.
Find out more
Expert Provision
The right experts with the right experience—ready to serve your upstream energy clients when the time comes.
Find out more
Deliverables Management
Focus on your case—fully confident you'll have the right experts and insights on hand when you need them.
Find out more
"Epeus is a highly regarded project management consultancy, that continues to attain and exceed my expectations."


Fiona Bannister, Technical Services Manager, Centrica Energy Upstream
"We brought you guys in to scare us into action, and you delivered in buckets."
Don Jacobsen, EVP, Shell
"Epeus understands the key requirements that are needed to achieve successful rig startups. Their personnel have deep experience and are knowledgeable in the areas of rig delivery."
Brian Hay, Director, Rig Engineering, Global Wells Organization, BP
"Whenever we've needed Epeus personnel, they've always got there fast—anywhere in the world."
Sachin Mehra, Vice-President, Asset Management, Valaris (ENSCO)
"The rigorous approach of Epeus's project readiness review service quickly gave us a set of robust and independent insights into the state of readiness of our field development project. The findings proved to be extremely valuable."

Leonardo Adami, Director, Petroleum Equity
"The bondholders appreciate the candour and view you guys provided. It was one of the key ingredients to getting consensus on the overall transaction."
Ken Becker, Director, AMA Capital
"We needed knowledge and experience of a large complex project environment and leadership for our onsite technical team to get us across the finish line. Epeus stepped up to help us implement our project strategy with good discipline."
Peter Anson, Director, Projects and Sites Energy Business Unit, Valmet Technologies Oyj.
"Your expert's knowledge was outstanding, the report was professional, and his courtroom experience shone through during cross-examination. Great job."

John Deis, Partner, Hicks Thomas LLP
"The Epeus team helped us to understand the complexities associated with a new build rig project and a new North Sea contractor startup."
Andrew Lough, Culzean Wells Project Manager, Maersk Oil
"Epeus's approach allowed us to fully analyse our options, integrate the rig construction period into our Culzean Project and feel more confident as we progressed towards the start of our drilling campaign."

Andrew Lough, Culzean Wells Project Manager, Maersk Oil